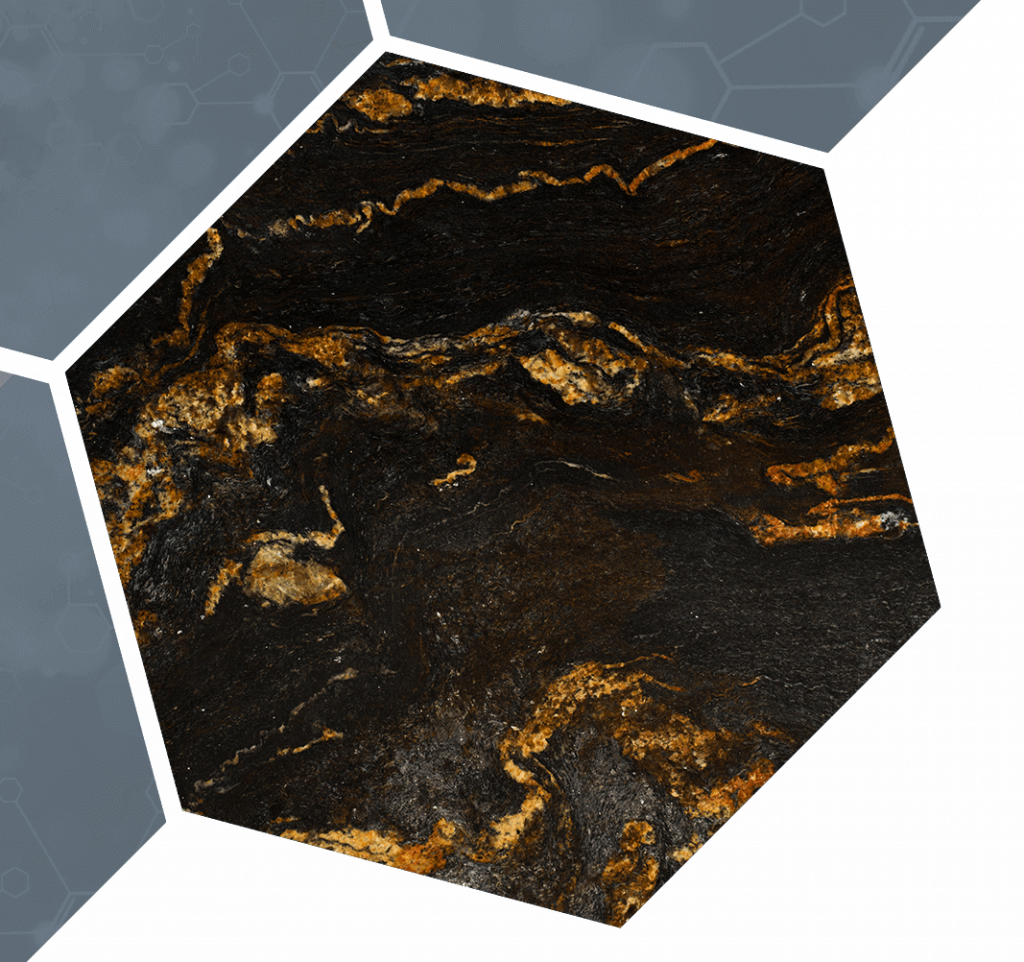 Tardigrade, her tip doğal taşın güçlendirilmesi, restorasyonu, dekorasyonu ve yapıştırılması konusunda talebe ve ihtayaca göre ürünler geliştirmektedir. Uygulama yapılacak doğal taşın türüne, karakteristk yapısına, rengine ve kullanım ihtiyaçlarına bağlı olarak en uygun reçine sistemini sunmaktadır.
Tardigrade depends on the demand of natural stone manufactures for:
Low, medium, high fluidity products for capillary or fine cracks
Fast, medium and slow speed curing, natural colors of stone / transparent products
Offers extra transparent / non-yellowing products for precious natural stones suitable for outdoor use
Tardigrade is a professional solutions partner in the natural stone industry for:
Glass fiber lamination compatible epoxy resins for strengthening marble, travertine, granite or onyx plates
Different types of epoxy resins for each type of plate and block restoration
Resins suitable for the production processes of different production facilities
Different types of polymeric resins for restoration and decoration of surfaces
Polyurethane and epoxy adhesives, gels and pastes for fine stone, ceramic honeycomb panels
HIGH QUALITY
Natural stone emerges from quarries with many different features, colors, shapes and textures. Many of these materials have different natural structures such as; cracks, fractures, superficial holes or pits. These imperfections need to be addressed and managed according to production types and the needs of the end user. New generation polymeric resins meet these needs to a large extent. Unmet requirements increase the range of defective or unusable products before manufacturing, resulting in direct or indirect increase in cost. As a result, Tardigrade increases product efficiencies with each new product it develops, providing a competitive advantage to their customers.
As a professional solution partner in the natural stone industry, Tardigrade simulates and test the products in its portfolio, the properties of production lines and resin applications directly in its own laboratory and work areas. These resins are designed to provide extra efficiency and high performance for the maintenance and repair of all-natural stones, especially marbles.
Tardigrade focuses on continuous improvement in performance that is compatible with state-of-the-art technology and ecology.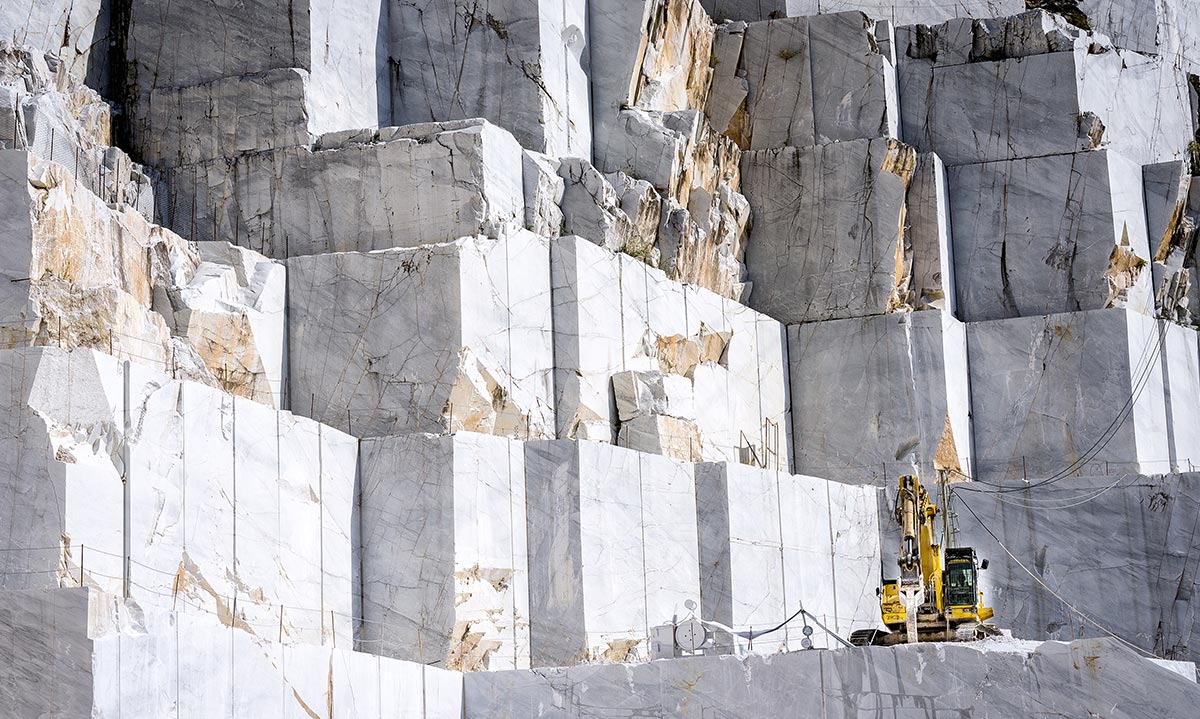 Natural stone is a very desirable product not only for its inherent beauty but for its longevity; however, production and transportation of such unique piece is quite difficult because of the following:
Natural materials often times have veining and pits which when cut into slabs makes it very difficult to transport without breakages, resulting in producers to cut thicker more expensive slabs with the hope that they survive transportation without breakages.
On average, natural stone, more specifically marble have a wastage rate of 35%-40%. Because of this, marble products are costlier.
Granite and other natural stone products have micro cracks, which when transported can cause fractures or cracking of the material
Resins, when added to natural stone materials, add strength and durability allowing producers to cut thinner slabs which helps to offset the cost of transporting.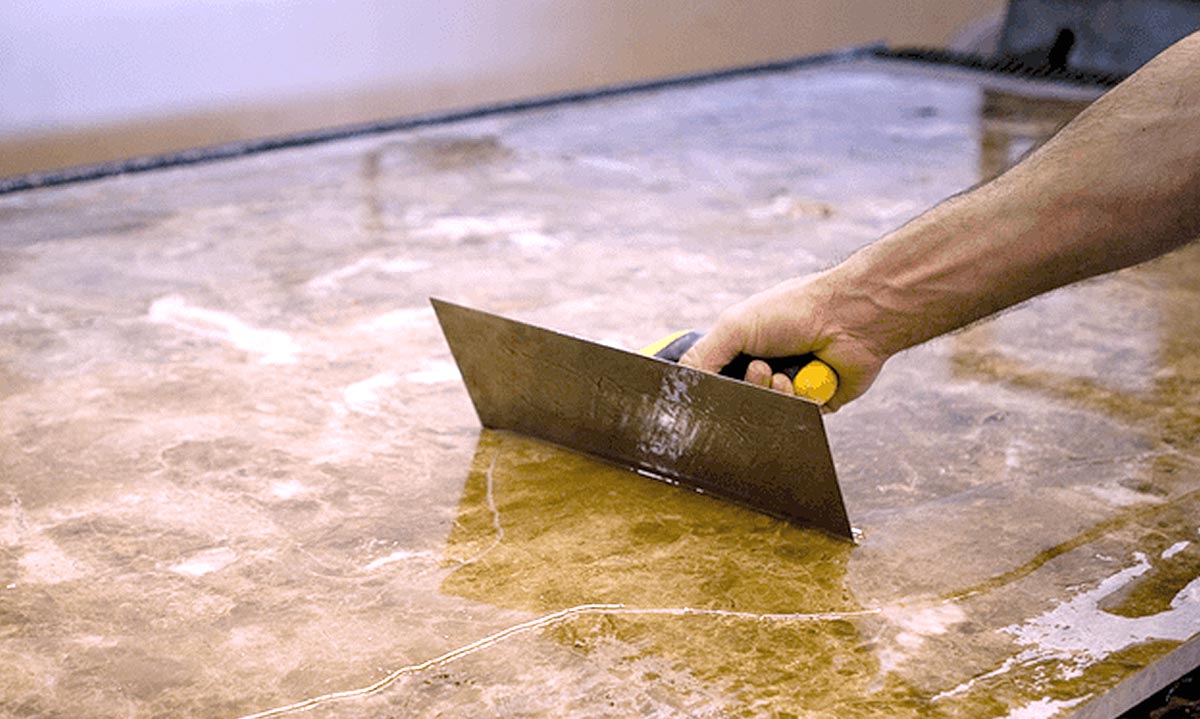 DIFFERENT SOLUTIONS FOR DIFFERENT STONES
Often times travertine, marble and granite are reinforced and filled with glass fiber epoxy resin laminations, such as gels and pastes. Epoxy resins are also used to polish natural stone surfaces, filling plates and retrofit stone surfaces. These fillers are mainly used for aesthetic effects to remove holes and cracks found on the surface of the material. Many different types of solvent-free epoxy resins are available providing viscosity, color and enhanced curing times dependent on the stone type and processes conditions.
Epoxy resin systems provide added strength and durability to granite and other stone surfaces, helping to fix many structural defects by penetrating micro cracks, lines and pits. Because of their bonding characteristics, epoxy resins are also used when combining other architectural details such as aluminum honeycomb, glass and steel to natural stone plates, enabling stronger more durable results. Natural stone plates overall have become stronger and provide an aesthetic solution gaining popularity and confidence among industry.
HOW IS IT APPLIED AND HOW DOES IT WORK?
Today there are hundreds of epoxy systems available all with different physical properties dependent on the type of material (marble/granite). Systems are chosen in accordance with the capabilities of the production facility, texture and color of the stone and expected final results.
Before applying epoxy resins, to marble or granite, the surface of the stone should be examined. In order for the resin to absorb throughout, the surface of the stone should be cleaned and dried thoroughly. Once completely dried, the resin can be applied homogeneously, in the correct ratio, to the whole surface of the stone, allowing for the epoxy to penetrate deep into the small imperfections of the natural surface. It is important to note that during the etching process, the focus is primarily on sanding the excess resin applied on the plate. This will prevent the epoxy resin from forming a film on top of the natural stone, bolstering the intermediate decks and micro-cracks.
This process should be done in a controlled environment where the appropriate etching, sizing and final inspection of the material can be conducted; utilizing the use of convention floor/tunnel furnaces and the proper ambient conditions.
New generation polymer technologies contribute to the production of natural stone surfaces with the use of higher technical epoxy system. As a result, some of the world's most beautiful marbles and granite are made available to the building industry on a larger scale and at lower cost.